Hello lovelies,
A few international artists (204 to be precise) joined forces (like superheroes!) and created something really small in support of something REALLY BIG!
I'm so privileged to be part of "A Small World" International Art Show for Cancer Research – these are postcard sized paintings 10cm x 15cm (or 4″ x 6″ for you Imperials) – and this is your chance to BID and OWN an original from an amazing array of award-winning artists (that's alliteration).
Here's the link to register and bid now:  "A Small World" Exhibition for Cancer Research
This show is the brainchild of Avril Thomas of Magpie Springs Gallery Winery in South Australia and is being promoted on all social media platforms. Cancer has touched everyone, so please make sure you re-post or share in support of this remarkable fundraiser wherever you can. This is my entry in the show "Red Shoes feat. 1954 FJ Holden" and here's how I painted it.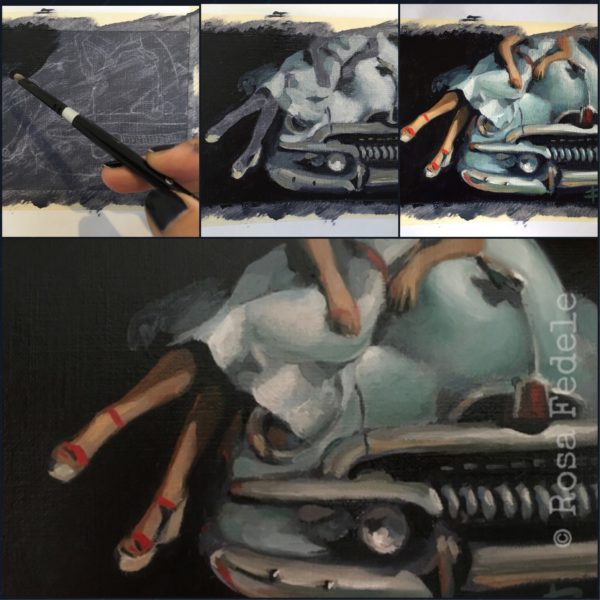 As the end of the year rapidly approaches, I've laid Book Two aside and painted like a madwoman so that I could offer you all a handful of new vintage classics for your viewing (and owning) pleasure. These will be available from 1st December as cards, prints, digital downloads, on iPhone & iPad cases, tshirts … you name it, we got it! Perfect pressie really, n'est-ce pas? (Oh Morticia, you spoke French!)
Here are the links, and here's a sneaky peek of one little guy, almost finished:
For prints and merchandise from $2.90  Rosa Fedele on Redbubble
For digital downloads and original art from $6.99  Rosa Fedele on ETSY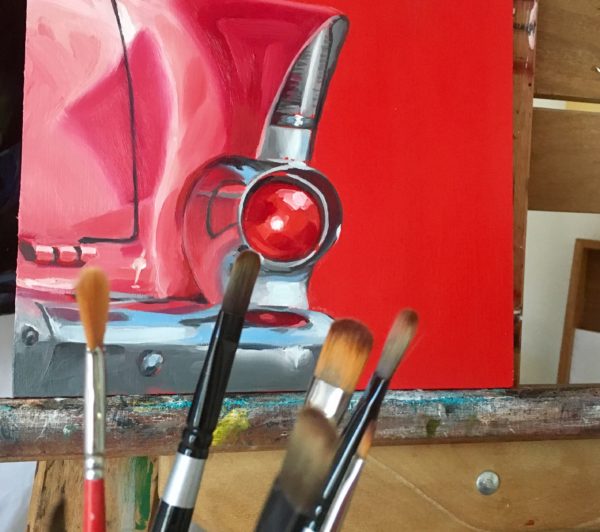 Of course, I won't leave without sharing another little tidbit from Book Two.
This is Stu talking about his cousin, who is actually a right little s***. I bet you'll all recognise the "type" once you've read the passage … we've all got one of these in our lives, don't we? Rx
"Stu arrived at his date with Claudia fresh from a screaming match with his cousin, and in the foulest of moods. 'I've fucking had it with him,' he said.
'What's he done?' she asked.
Stu explained how he'd returned home from work to find his bedroom ransacked, and his cousin walking around the living room wearing his brand new polo. 'He knew it was the one Mum gave me for my birthday! And he was dripping beetroot all over the front and onto the carpet. He also stole the shirt you chose for me, the Ralph Lauren. I found it in his room – which is a festering pig-hole by the way – screwed up into a ball and thrown on the ground, underneath a pile of mouldy towels, plates of half-eaten food and porno magazines. It stank! And I'm supposed to be wearing it at the next show! He takes my car without asking and drives it God-knows-where, leaving me with an empty tank. He can't touch anything without breaking it – I don't know what he's done with the television, but it's stuffed, stopped working altogether – and he denies everything. He's such a fucking liar! Great chunks of paint have been stripped from the walls where he's ripped off old car posters … I don't know how I'm going to get the bond back unless I re-paint the room completely … and my good aftershave is missing … and then, to top it all off, I found my gat in there! What the fuck would he be doing with my gat? He can't even play guitar!
'Oh, Stu.' Claudia caught him up in a hug and held him tightly until she could feel him begin to relax.
'I'm sorry, I shouldn't be venting to you.'
'Oh, Stu, don't apologise. Why don't you ask him to move out?'
'I can't. Mum would kill me. She'll say: "Show some compassion, Stuey. Be the bigger man, Stuey. You know he's had a hard time of it, what with all the troubles his poor family had back in Ireland, and blood is blood" blah, blah …'
'What troubles?'
'Well, he was sent out to live with us when he was fifteen.'
Stu explained how he had looked forward to the arrival in Sydney of his Irish cousin, excited to finally meet a relative his own age. They'd met him at the Arrivals Gate and Stu remembered wanting to see his cousin's passport photo, so he snatched it away from him, playfully waving the booklet about in the air just out of his reach and teasing him about his strange triple-barreled name. 'It was a joke, but he didn't like it. That was the first time I saw his temper.
'He has a way about him, you know, a charm? Has a talent for dissembling, for being able to say exactly what people want to hear, when you just know he's talking a big pile of steaming shit. And, in the next breath, his silken tongue turns razor sharp and he finds a way to deliver the nastiest and most cutting insult. Most people catch on quickly, others take a little longer, but eventually everyone ends up distrusting, despising or avoiding him altogether. I'm sick of having to cover for him or apologise for his behaviour. Sometimes I drop my guard and give him the benefit of the doubt, and almost every time, like a slap on the face, he manages to offend or disappoint me. I wish he'd bloody stayed in Ireland, troubles or no troubles.
'But, what troubles?' Claudia asked again.
'What Uncle Ernie told me was that his father, Bartie, got swindled and they lost all their money and their house, which meant the family had to move into council housing. And then his mum ran away with a doctor who lived in a proper house near Upper Malone Road, which is the posh part of town, and his little sister Janet cried for months after, and stopped eating altogether. And my cousin got caught up with a group of rough lads from the estate and began to disappear for days at a time. His dad had no clue where he went, or what he was doing … until little Jenny saw her brother coming out of one of the old disused sewer pipes with his new mates. Well, he got angry with her, yelling at her to go away and mind her business, but the silly girl told her Dad, and then he got angry, saying no son of his had business mixing with that scum, but by then it was too late: the rough lads had taken a liking to Jenny, followed her and found out where she lived.'
Stu swallowed. 'They found her in an abandoned culvert. The bastards had raped her. The poor thing was twelve years old. And her father was dead beside her, stabbed in the neck.'
'Oh my God, that's horrible!'
'So that's why I can't kick him out.'
Missed reading the first of the series, The Red Door? Head over to Amazon or iBooks and grab your copy!