This month, in my last post for 2016, I'm going a bit fangirl over this artist: CINDY LANE.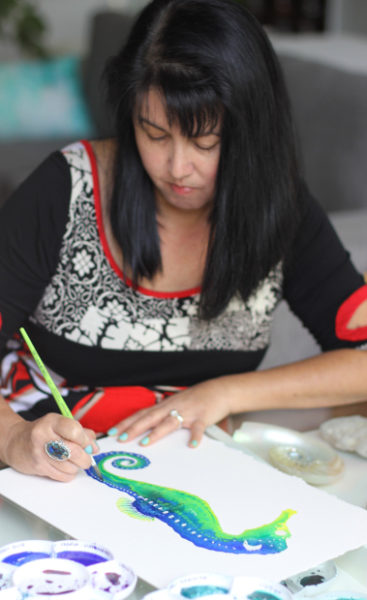 Now, I'm not going to repeat what you'll find in Cindy's bio: about her studio in Perth, right beside the Indian Ocean, and her stunning portrayals of beaches and oceans and every living thing.
I'm not going to rave about the incredible way she drops or injects pigment into water droplets, sometimes even using seawater, and how she creates remarkable images of marine life – sea horses, whales, rays and dolphins, and even jelly fish.
And I'm certainly not going to go on and on about how the natural world is Cindy's inspiration, and that through her art she seeks to promote a peaceful respect and awareness for the planet and all its creatures.
Nope, none of that. Instead I'm going to tell you about how we both met in high school, bonded over Dr Who and Star Trek, Split Enz and Spandau Ballet … how we squandered away every lesson sitting in the back row, jet black hair falling over our faces, endlessly drawing pictures for each other (all of which Cindy has allegedly preserved, stashed deep in the darkest corner of her basement, to be brought out one day soon for maximum embarrassment), and how we left school and parted ways, meandering in completely different directions, and how, years later – BOOM! – suddenly and to our great surprise, we discovered that in the meantime, we'd both become artists!
Her work is hypnotic … you can watch videos of Cindy's extraordinary painting methods here:
And here is her website: Cindy Lane Art

I conclude, Lovely Reader, with a great big Happy New Year's kiss … and, of course, another tidbit from Book Two. Just a short piece this month, but a cheeky one, based on my observations at a real house of pleasure here in Sydney town … enjoy.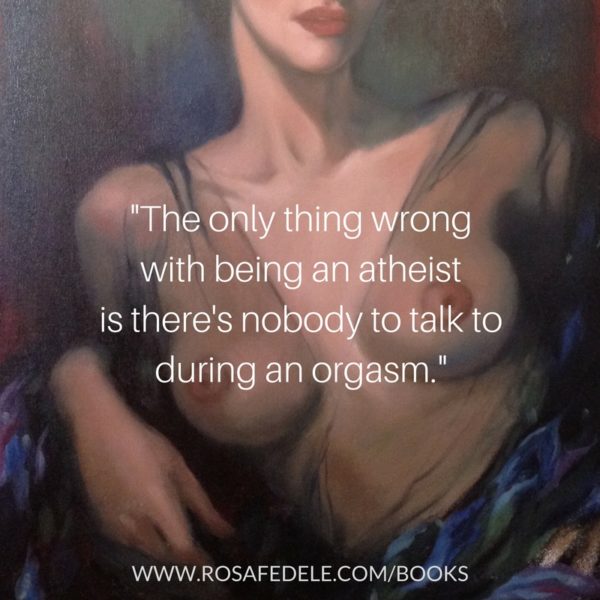 "The Peach Pit's front door was painted with blackboard paint, a new saying chalked on afresh every week. The best one so far had been: "A dirty book is rarely dusty." This week's maxim was: "The only thing wrong with being an atheist is there's nobody to talk to during an orgasm."
'Hello there, love!' Madame Pam floated over to Dan, a cloud of blonde curls and Elizabeth Arden's Red Door, patted him on the cheek and waved him straight down the corridor and through to the ladies' common room. 'I'd stop to chat,' she said, 'but it's busier than the Cahill Expressway on a Tuesday morning!'
The Peach Pit was one of Dine's regular clients. On any night of the week a big order was phoned in, and it varied from restaurant to restaurant. The ladies were charming and they tipped generously – this was one business which knew the value of gratuities and were unstinting with their cash – and yet Dan always felt ill at ease in the house. Eyes glued to the carpet, he walked down the long hall.
Tonight, the common room was quiet but for one woman clad in a leather bustier and ruffled tutu. She sat at the large dining table with her implements laid out, a spray bottle of disinfectant and soft cloth in her hands.
'Hello, gorgeous boy,' she purred. Her husky voice could have melted a spinal column at fifty paces. 'It's a bit wet out there for you tonight, isn't it?'
Dan smiled nervously and slowly began to unpack the foil trays from his Esky. He knew exactly what bondage mistresses specialised in and it was hard not to look at her as she worked; she might as well have been cleaning her make-up brushes or polishing silverware, she was so matter of fact. She wiped the riding crop carefully, and placed it down beside the steel, fur-lined manacles. Then she took up a sponge, dipped it into a pot, and began to buff various pieces of harness. Mesmerised, he watched her bring a lustrous gleam to a studded dog collar. 'What a night!' she said as she worked, 'I'm glad to put my feet up for a mo … they're lining up like lemmings out there.'
Dan didn't know how to answer, only gawked as she set to work polishing a leather hood with a muzzle. He jumped as two more girls flounced into the room. One kicked off her stiletto heels and began to rummage frantically amongst her skirts. Finally locating a packet of cigarettes, she tried to light one with shaking hands. 'I'm starving! What have you got in the basket, Dan? Is it Italian?'
Dan left as quickly as possible, with a crisp roll of notes tucked into the money pouch and another twenty in his jeans, slid suggestively into his back pocket by Madame Pam with a grin and a cheeky wink."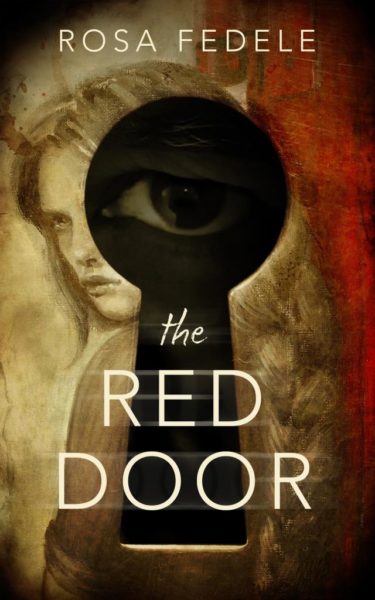 Missed reading the first of the series, The Red Door? Head over to Amazon or iBooks (links below) and grab your copy, and follow me on Instagram @rosafedele as I illustrate book two.
Au Revoir! Rx
[wysija_form id="1″]