Hello lovelies,
A few international artists (204 to be precise) joined forces (like superheroes!) and created something really small in support of something REALLY BIG!
I'm so privileged to be part of "A Small World" International Art Show for Cancer Research – these are postcard sized paintings 10cm x 15cm (or 4″ x 6″ for you Imperials) – and this is your chance to BID and OWN an original from an amazing array of award-winning artists (that's alliteration).
Here's the link to register and bid now:  "A Small World" Exhibition for Cancer Research
This show is the brainchild of Avril Thomas of Magpie Springs Gallery Winery in South Australia and is being promoted on all social media platforms. Cancer has touched everyone, so please make sure you re-post or share in support of this remarkable fundraiser wherever you can. This is my entry in the show "Red Shoes feat. 1954 FJ Holden" and here's how I painted it.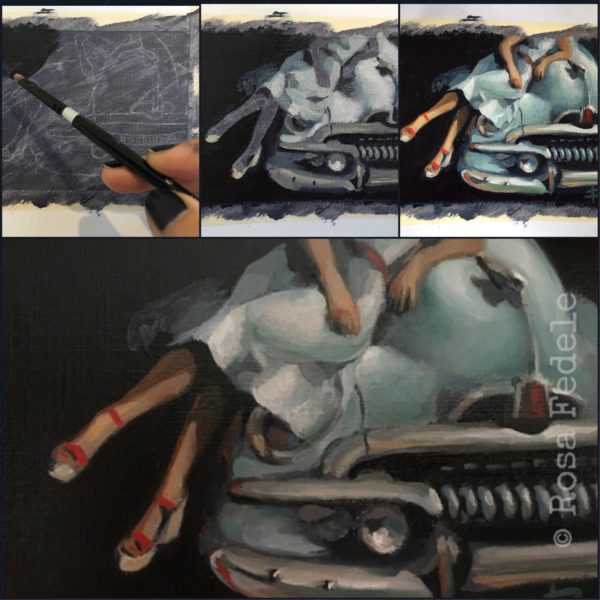 As the end of the year rapidly approaches, I've laid Book Two aside and painted like a madwoman so that I could offer you all a handful of new vintage classics for your viewing (and owning) pleasure. These will be available from 1st December as cards, prints, digital downloads, on iPhone & iPad cases, tshirts … you name it, we got it! Perfect pressie really, n'est-ce pas? (Oh Morticia, you spoke French!)
Here are the links, and here's a sneaky peek of one little guy, almost finished:
For prints and merchandise from $2.90  Rosa Fedele on Redbubble
For digital downloads and original art from $6.99  Rosa Fedele on ETSY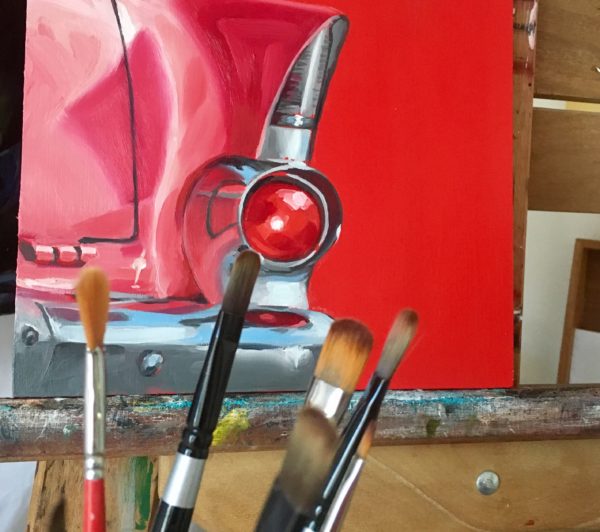 Of course, I won't leave without sharing another little tidbit from Book Two.
This is Stu talking about his cousin Ratty, who is actually a right little s***. I bet you'll all recognise the "type" once you've read the passage … we've all got one of these in our lives, don't we? Rx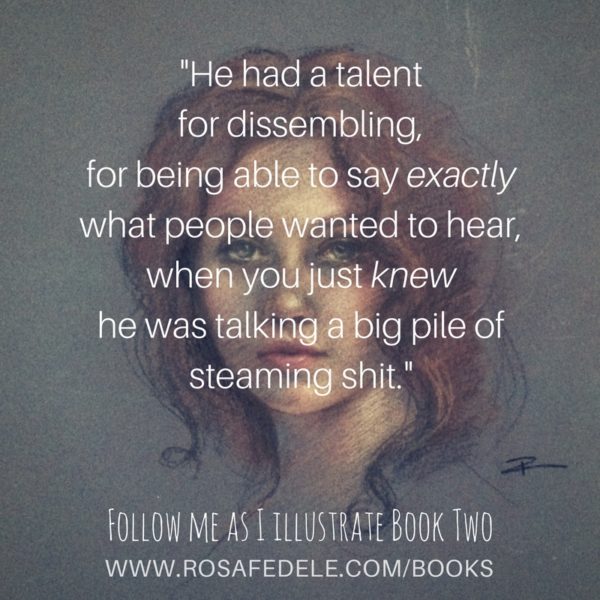 "Only Stu knew Ratty's real name was Arthur. Arthur Conan Doherty, to be precise.
Happy he would finally have a cousin near his own age to mess about with, the fifteen-year-old Stuart had looked forward to the arrival in Sydney of his Irish cousin. Passport in hand and face creased anxiously, a young Ratty had emerged from the Arrivals Gate. He scanned the crowd for the faces of his aunt and his cousin, the only family now remaining to him. Stu had been jumping out of his skin with excitement and bolted over to the gate, punching his cousin on the arm as a greeting. Ratty was a little shorter than Stu, his dark, almost black, hair a negative to Stu's sun-bleached blond.
Stu wanted to see his cousin's passport photo, so he snatched it away from him playfully, waving the booklet about in the air just out of his reach. 'Oh, Mister Arthur Conan Doherty, your passport. Sir Arthur Conan Doherty, your car is ready. Lord Arthur Conan Doherty, aperitifs will be served in the drawing room!'
Stu fell about laughing and Ratty snatched the document back roughly. 'Fark off, yer little shit.'
'It's just a joke, mate.'
'Well, fark off, anyway.'
It had been only an instant, but Stu saw the flash of savagery which momentarily twisted Ratty's face. He backed off, and the incident was forgotten.
Five years on, Stu often found himself wishing his cousin had stayed in Belfast, family or no family. He was weary of having to cover for him, defend him or apologise for his behaviour. In truth, Ratty was the little shit. A big shit, actually.
Ratty's banter and tomfoolery, delivered with boyish good looks and a lop-sided grin, charmed and disarmed the unwary; his silken tongue lured and flattered, drawing his victims in. He had a talent for dissembling, for being able to say exactly what people wanted to hear, when you just knew he was talking a big pile of steaming shit. And in the next breath, the silken tongue could turn razor sharp; finding a way to deliver the nastiest and most cutting insult. Even Stu, who had known Ratty the longest, sometimes dropped his guard and gave his cousin the benefit of the doubt. And almost every time, like a stinging slap on the face, Ratty would manage to offend or disappoint him.
'He drives me fucking nuts, Mum,' Stu wailed.
'He's family, Stuey, and blood is blood. You know he's had a hard time of it, what with all the troubles his poor family had over in Ireland. He needs family more than anything, and we're it. And mind your language.'
Some people caught on quickly, others took a little longer but, eventually, everyone ended up distrusting, despising or avoiding Ratty altogether. Even with the knowledge that he managed to get himself sacked from every job he started, Stu's mother, who felt an almighty responsibility for her nephew, finally asked her brother-in-law Ernie to take him on as a casual labourer. And, despite Stu's urgent warnings ('Start being more reliable, mate, put a stopper in your smart mouth, and enough with the constant bullshit!') Ratty was soon shunned by everyone on the building site as well.
'I swear, one of these days someone's going to pop him,' Stu had said to his mother last week. 'Or he's going to end up as landfill.'
Stu swallowed the last of the beer he had been dragging out while he sat waiting for Ratty at the pub. His cousin was over an hour late and Stu just knew he wouldn't be showing up at all. Tomorrow he would front up with another elaborate, and farfetched, excuse and Stu would let it go. Again.
He didn't even know why he bothered."
Missed reading the first of the series, The Red Door? Head over to Amazon or iBooks and grab your copy!