IT'S AUCTION TIME!
You've watched, waited and cheered me on, and finally the paintings I began creating for you during the Southern Highlands Art Trail will be auctioned to raise funds for EARLY BIRD CAFE, providing hot breakfasts each weekday from the Macquarie Street steps of St Stephen's Church, Sydney. No one should go hungry, so let's do this!
Here's footage
taken
by one of the
volunteers
of what
Actually
Happens
Every
Morning.
Wow.
THE FIRST AUCTION:
ERIN feat. 1956 FJ Holden
Oil on Canvas 61cm x 61cm
The auction will commence at 8:00PM Wednesday 9th December and closes at 8:00PM Friday 11th December (Sydney time).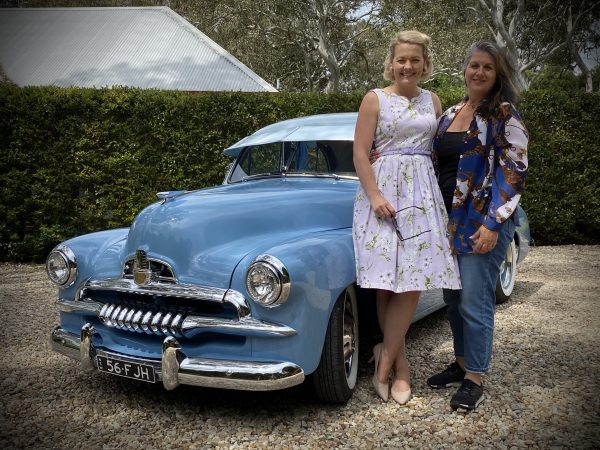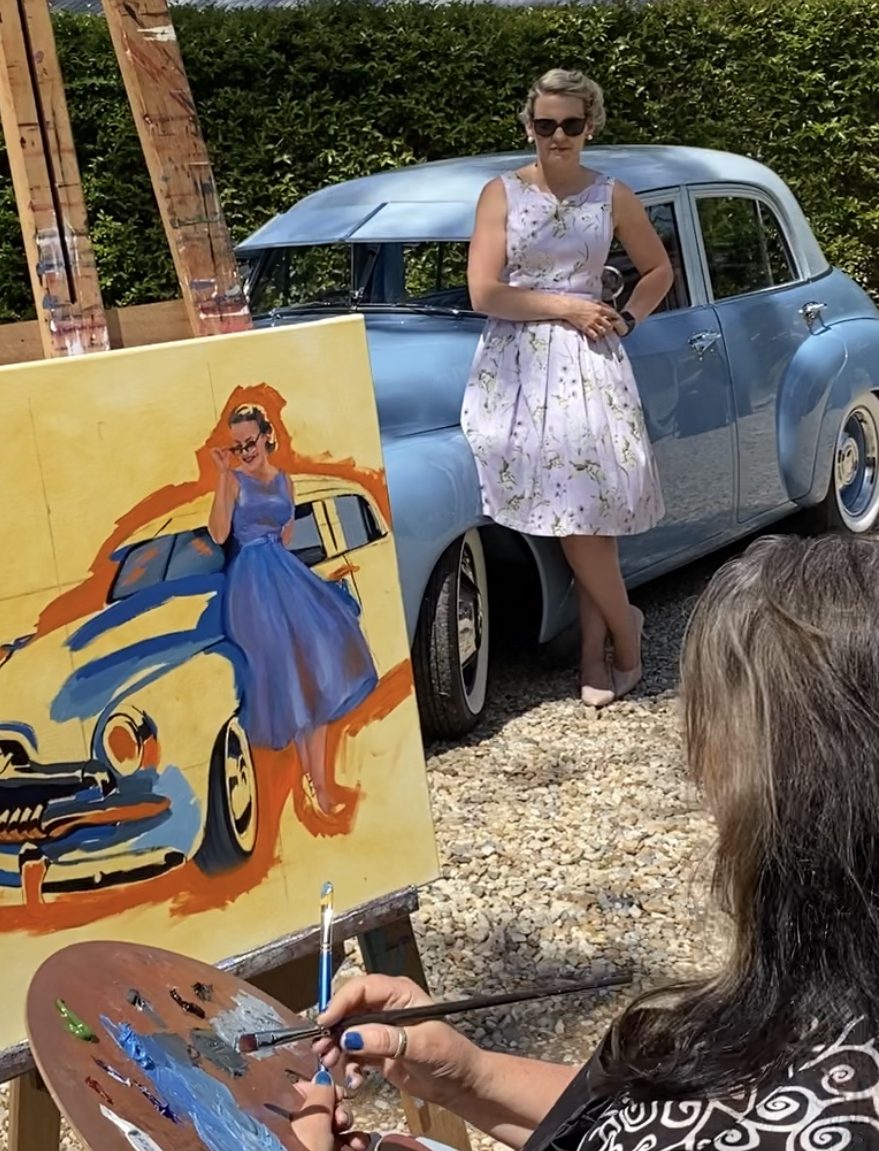 THE SECOND AUCTION:
ALISON feat. 1960 FB Holden
Oil on Canvas 61cm x 61cm
The auction will commence at 8:00PM Wednesday 16th December and closes at 8:00PM Friday 18th December (Sydney time).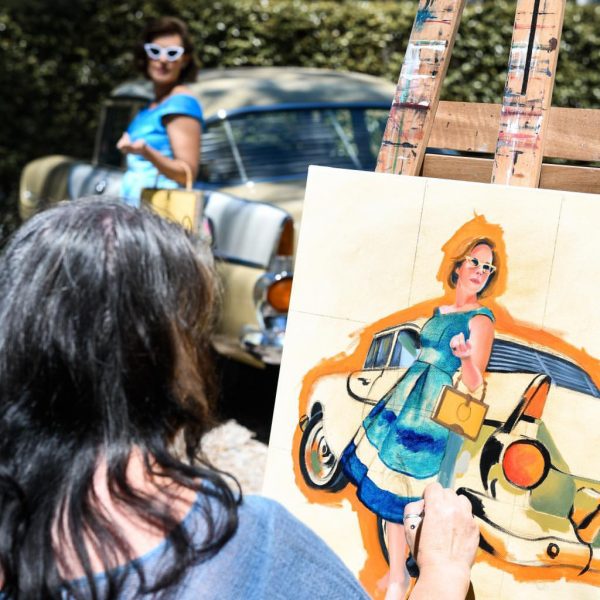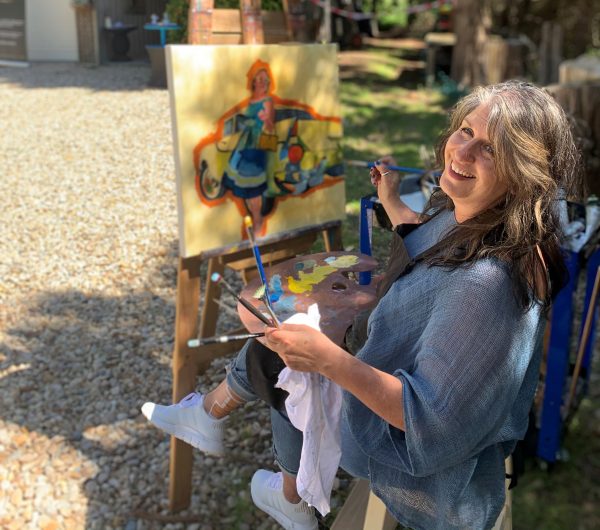 Here's how to bid:
Bids can be placed by commenting on this or any of the posts on social media (Facebook, Instagram, Twitter, LinkedIn or TikTok) or by email rosafedeleartist@gmail.com.
Small print: Bidding starts at AUD$500. Highest bids received at 8:00PM each corresponding Friday night are the lucky owners and will be contacted directly for payment instructions. Includes shipping within Australia.
Limited edition prints will be available for purchase after the auctions. Stay watching for updates!
Once again huge thanks to my wonderful models Erin and Alison, the owners of the delicious FJ, Debra and Eddie, and the owner of the yummy FB, Russell.
BEEN WONDERING WHY I'VE STARTED PAINTING VESPAS?
During the Art Trail I was asked over and over "Why do you paint Italian scooters?"
Here's why: Not so long ago one of my dear aunties unearthed a previously never-before-seen photograph of my mother, aged 17 on a scooter with her brother in a laneway in their home town in Calabria, Italy.
As many of you know, my mother died when I was a baby and I didn't ever have to chance to know her so you can just imagine how entranced I was by this picture … couldn't stop looking at it actually.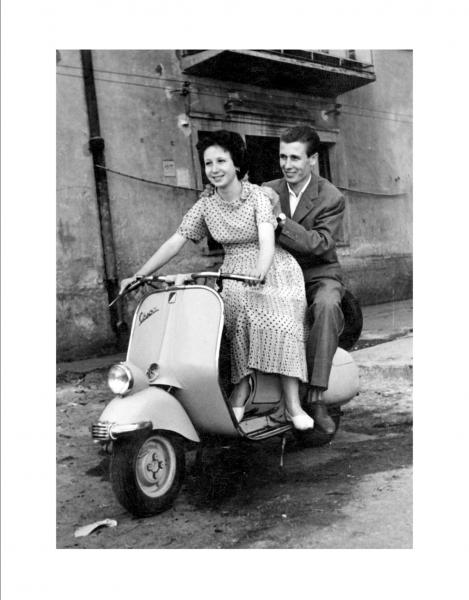 The photo was grainy and a little tattered around the edges but I took it to my image genius at Arthead who cleaned it up and enlarged it. It now hangs proudly on our wall, our daughter has the other copy.
And thus my love of Vespas began. Which then led me to …
ABEND 30TH ANNUAL MINIATURES SHOW
Kept this secret for aaages and bursting to tell …
FOUR OF MY NEW DARLING VESPAS HAVE BEEN SELECTED FOR THE 30th ANNUAL ABEND MINIATURES SHOW in DENVER, COLORADO! YAAAY! They've arrived safely at the gallery in time for the show and I'm terribly excited (can you tell?) to be hanging amongst remarkable artists from around the world. Congratulations to everyone!
Here are the four paintings … they were literally the first Vespas I ever painted and kept under wraps wondering whether to bring them into the world.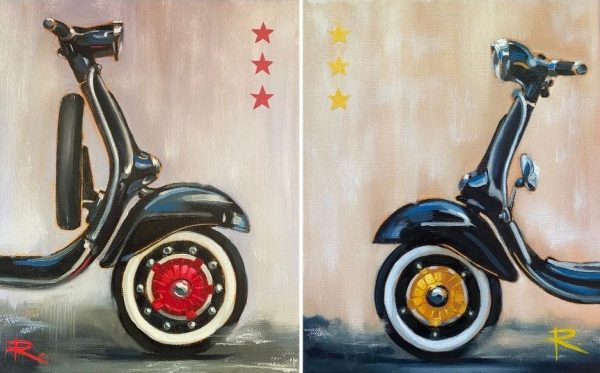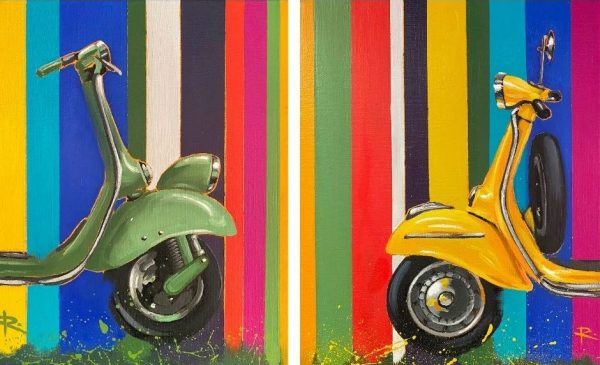 The exhibition opens 5th December through until 9th January. Paintings are available for purchase, inquiries to curator@abendgallery.com or simply click the PURCHASE button. Here's the link. Have a squiz, some amazing work to feast your eyes on: https://www.abendgallery.com/show/abend-gallery-30th-annual-holiday-miniatures-show
If you pop over to my Gallery | Vespa.rt you'll see some of the vintage scooters I've painted thus far – they're each named after Italian towns, eg. Bardolino, Positano, San Gimignano etc. So much fun and I'm dying to create more … I'll take a short break over the holidays then get straight back into it.
I'll have an exciting announcement in the New Year so hang on to your handlebars!
Happy holidays to everyone and see you in 2021,
Rx