Tomorrow is PUBLICATION DAY and I can't think of the more perfect time than now to thank the ones who have helped me on this long and colourful journey:
A huge thank you to Teodora Olic and her mum Mina, for teaching me about all things Serbian; your patience and good humour is hugely appreciated. And yes, always happy to cook for you!
Many thanks to Cambell Ring, for donating simply hours of your time to talk cocaine, swat teams, what it was like in the Drug Squad during the colourful eighties and nineties … and explain exactly how to coordinate a major drug bust.
Eugenie Dale, merci! I'm forever grateful for your French translations.
My own dear sis Felicity Fedele and cousin Diego Fedele, molte grazie for untangling those tricky Calabrese words.
Domenica Garrett, I wish I could quote lyrics from all of your songs!
Much gratitude goes to my structural editor, Alexandra Nahlous; your advice, suggestions and gentle nudges helped transform my meandering manuscript into a cracking little tale.
A big shout out to Laurence French M. Ed., who kindly donated his time to look at my raw manuscript and turned out to be the best beta reader ever!
Marie Dale, who so kindly sat for me for my painting of Gordana (I know I've thanked you before but there can never be too many thank yous, can there?)
Big cheers again to Jenny and Ally Mosher from MoshPit Publishing, you guys are amazing and I'm so happy to be working with you again.
Finally, and most importantly, my family who continue to encourage and support me throughout all my crazy endeavours.
ARC reviews are already appearing on Goodreads and I must say I'm  gobsmacked at the feedback from book-bloggers  and reviewers. Think I've been quite close to tears a couple of times! Here's the link if you'd like a look: The Legacy of Beauregarde on Goodreads
Thank you to everyone who has already pre-ordered (or is poised and waiting to order) the book – I'm so excited for you all to read THE LEGACY OF BEAUREGARDE and truly hope you enjoy it as much as I loved writing it and, of course, creating the illustrations. Hope to see some of your friendly faces at the launch party at Gleebooks, Glebe on Saturday 14th July 3.30PM!
I'll need all the support you can give, believe me – my knees are shaking with nervousness!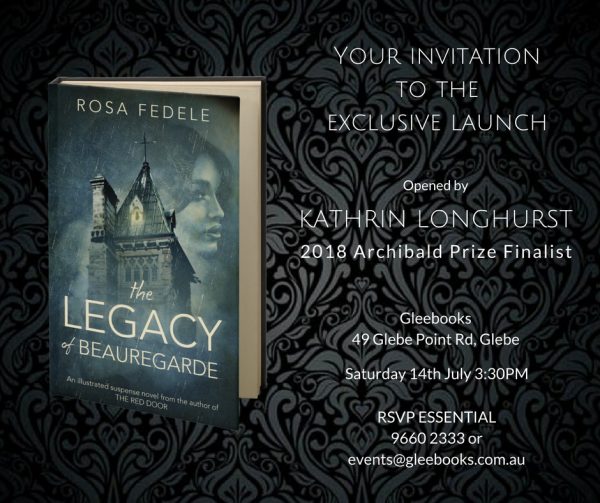 Here's the links for those of you that can't make it:
Amazon AU https://amzn.to/2JNML4h
Amazon US https://amzn.to/2M3Y7ie
Amazon UK https://amzn.to/2JGjSUC
iBooks   https://apple.co/2tgQg9j
MoshShop: https://themoshshop.com.au/products/the-legacy-of-beauregarde-by-rosa-fedele
Or simply order from your favourite local bookseller 🙂
Happy reading!
Hugs Rx
#thelegacyofbeauregarde #australiannoir #rosafedele