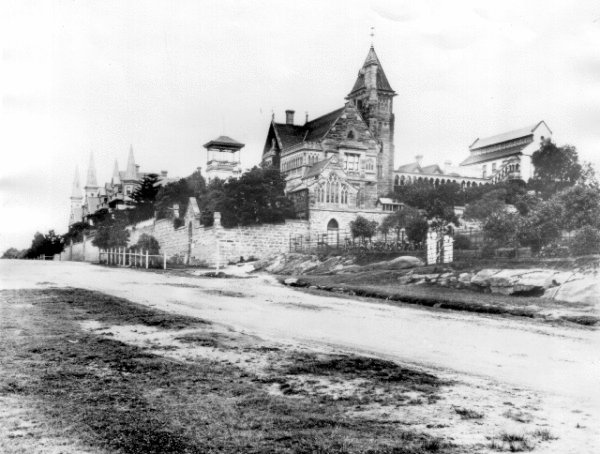 A little bit manic here at our own house, with builders and painters and sparkies working furiously away. Trying to look at it as inspiration – fodder, if you will – for Book Two. Here's another tidbit, lovely readers. Enjoy.
"Lights, Camera, Action
Maurice Ellis was poised at the beginning of the long walkway which ran in front of the cloisters. All eyes were trained on the presenter, squinting against the mid-morning sun which flashed off the decorative stained glass windows in the tower and its shimmering tarnished Gothic copper roof. The camera man waited in the cherry picker, the vehicle's arm extended to its furthest reach. It was the perfect opening shot.
Maurice stretched his arms above his head and took three deep breaths. Lucy darted out from behind the mullion, patted another layer of powder onto his forehead and vanished again.
The clapper came down.
Maurice began to walk forward, slow measured steps and shoulders relaxed, and with a genial smile he looked engagingly up to the camera.
'This week on Dream Home Australia, new meets old as we follow the restoration of one of Australia's oldest and most iconic buildings, here in the leafy and prestigious Sydney suburb of Hunters Hill.'
He paused.
'When professional couple, Richard and Gordana Lemann, acquired the magnificent ruin known as The Seminary they realized it wasn't just the fabric of the building they would fight to preserve, but its incredible history too.'
The camera began to zoom out.
'Richard and Gordana have always enjoyed penthouse living in a waterfront high rise. Until, that is, they found this disused Catholic Seminary, which they purchased at auction five years ago. This imposing building has been uninhabited for almost twenty years and sadly has fallen into a state of neglect. Richard is a barrister with a top Sydney law firm. Gordana, an interior designer from Chelsea, London, will be in charge of the painstaking project in conjunction with Zachary Monroe, Melbourne architect and a specialist in heritage restoration.'
Another pause. The camera panned further out.
'Gordana's plan is to establish her office in the tower during the construction period, giving her a perfect vantage point from which to command the project.'
Pause.
'Join us, as we follow Richard and Gordana's journey as they try to preserve this building's unique character, while transforming it into a modern family home.'
The final frame encompassed the entire building, including the stables, turrets and the impressively gleaming spire.
And, cut.
'How was that?' Maurice looked down at the director. 'One more?'
The builders, perched on their eskies, munching on sandwiches, drinking tea and watching the spectacle, couldn't believe their luck. They hadn't even had a chance to start on the job and were already pulled off the site. It wasn't every day they got paid to sit around and watch a film crew for hours on end.
Sour faced with disappointment, Gordana stood on the footpath. They wouldn't be interviewing her and Richard today. She had shopped specially – finding a crisp, white ruffled Carla Zampatti blouse and camel linen trousers. Her hairdresser, Dimi, had turned up at six o'clock to wash and blow-dry her hair, ready for the seven o'clock start. Gordana almost felt like bursting into tears. Richard hadn't cared and left for work without a backward glance.
She decided to call Maureen and see if she was free for lunch. At least the new outfit wouldn't be completely wasted."