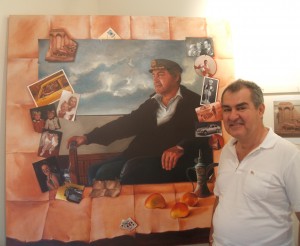 Nabil's portrait was a joy to paint and was also my entry for the Archibald Prize.
This painting is a story in pictures of his life.  His lovely wife Maud and I spent hours going over old family photos.  We discovered old sepia shots of his first car, first boat, his baby photos, Maud in her first car at age 17 and we combined these with snaps of his children, grandchildren and objects d'art from his home. 
To top it off, his lovely new Aston Martin Vanquish as a juxtuposition to his old Honda S600 Coupe, and his amazing Sunseeker 82 Motoryacht beside his first Sunseeker runabout.
We sat in my studio, chatted about his life and he told me a story from his childhood growing up in Beirut.  He was watching a "wealthy" cousin eating mangoes.  These were a delicacy in those days and the cousin didn't offer to share the fruit.  It was at that point Nabil made a decision to become successful, so he would be able eat as many mangoes as he wished …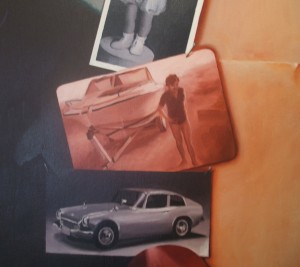 In the painting I have layered images of the photos in 3D over canvas painted to look like folded parchment.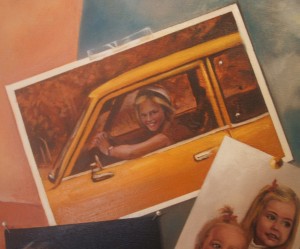 When Nabil first saw the painting he actually tried to remove the painted-on photos!