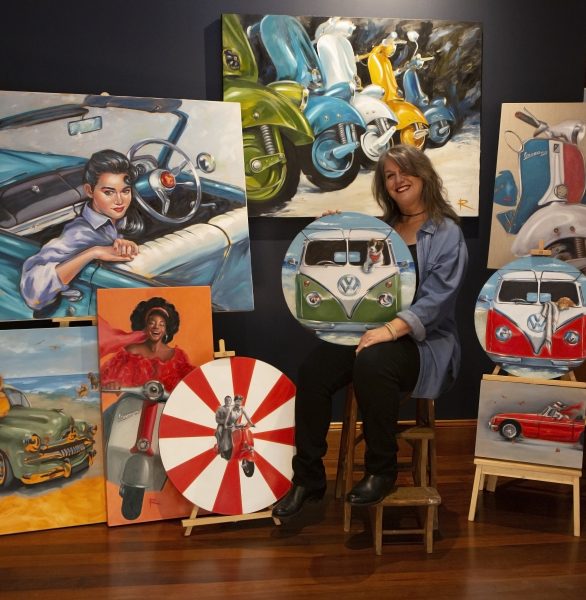 WILLOUGHBY feat. 1960 MGA Roadster

Oil on Board 30.5cm x 40.6cm
Ready to hang  |  Includes Certificate of Authenticity
Price (incl. shipping and insurance) AUD$850.00
OSWALD feat. 1970 MGB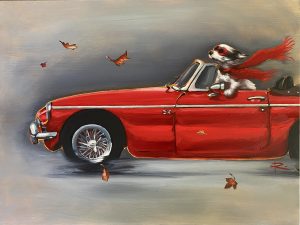 Oil on Board 30.5cm x 40.6cm
Ready to hang  |  Includes Certificate of Authenticity
Price (incl. shipping and insurance) AUD$850.00
CANYONLEIGH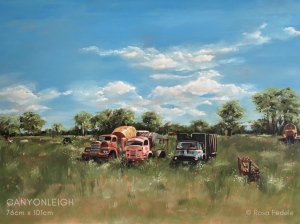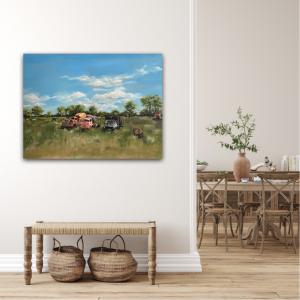 Oil on Canvas 76cm x 101cm
Ready to hang  |  Includes Certificate of Authenticity
Price (incl. shipping and insurance) AUD$2650.00
RED SHOES II feat. 1956 FJ Holden
Oil on Canvas 30.5cm x 40.7cm
Ready to hang  |  Includes Certificate of Authenticity
Price (incl. shipping and insurance) AUD$850.00
GIOSOFATTO feat. 1963 Alfa Romeo Giulia Spider

Oil on Board 50cm Tondo
Ready to hang  |  Includes Certificate of Authenticity
Price (incl. shipping and insurance) AUD$1200.00
OLE BLUE EYES feat. 1966 Ford Mustang

Oil on Board 50cm Tondo
Ready to hang  |  Includes Certificate of Authenticity
Price (incl. shipping and insurance) AUD$1200.00
SUNNY feat. 1973 VW Beetle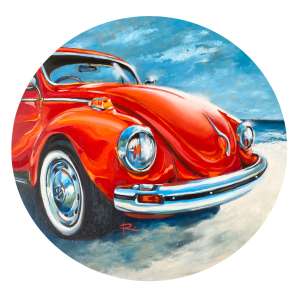 Oil on Board 50cm Tondo
Ready to hang  |  Includes Certificate of Authenticity
Price (incl. shipping and insurance) AUD$1200.00
BRIDIE feat. 1960 VW Kombi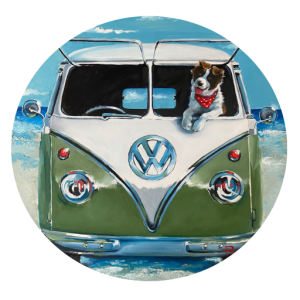 Oil on Board 50cm Tondo
Ready to hang  |  Includes Certificate of Authenticity
Price (incl. shipping and insurance) AUD$1200.00
RUFUS feat. 1960 VW Kombi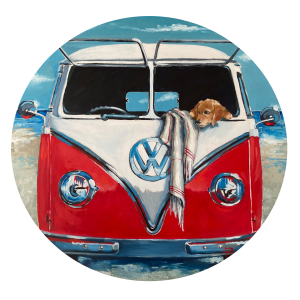 Oil on Board 50cm Tondo
Ready to hang  |  Includes Certificate of Authenticity
Price (incl. shipping and insurance) AUD$1200.00
ERICA feat. 1963 EH Holden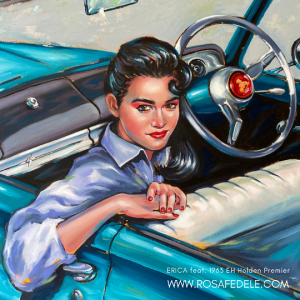 Oil on Canvas 91.5cm x 122cm
Ready to hang  |  Includes Certificate of Authenticity
Price (incl. shipping and insurance) AUD$2950.00
HAYLEY feat. 1950 Ford Coupe
Oil on Linen 74cm x 54cm
Ready to hang  |  Includes Certificate of Authenticity
Price (incl. shipping and insurance) AUD$1200.00
BARDOLINO
Oil on Canvas 30.5cm x 40.7cm
Ready to hang  |  Includes Certificate of Authenticity
Price (incl. shipping and insurance) AUD$850.00
MONTEPULCIANO I & II Diptych
Oil on Canvas 26cm x 40cm (side by side)
Ready to hang  |  Includes Certificate of Authenticity
Price (incl. shipping and insurance) AUD$850.00
POSITANO I & II Diptych
Oil on Canvas 26cm x 40cm (side by side)
Ready to hang  |  Includes Certificate of Authenticity
Price (incl. shipping and insurance) AUD$850.00
SAN GIMIGNANO | SET OF FOUR
QUADROPHENIA I | JIMMY
Oil on Canvas 61cm x 61cm
Ready to hang  |  Includes Certificate of Authenticity
Price (incl. shipping and insurance) AUD$1200.00
QUADROPHENIA II | ACE FACE
Oil on Canvas 61cm x 61cm
Ready to hang  |  Includes Certificate of Authenticity
Price (incl. shipping and insurance) AUD$1200.00
GIGI feat. 1968 Vespa
Oil on Canvas 91.5cm x 45.8cm
Ready to hang  |  Includes Certificate of Authenticity
Price (incl. shipping and insurance) AUD$1250.00
MIMI feat. 1966 Vespa
Oil on Canvas 91.5cm x 45.8cm
Ready to hang  |  Includes Certificate of Authenticity
Price (incl. shipping and insurance) AUD$1250.00
CIRCUS BERZERKUS I & II
Oil on Board 30cm Tondo each
Ready to hang  |  Includes Certificate of Authenticity
Price (incl. shipping and insurance) AUD$700.00
TALLY HO I & II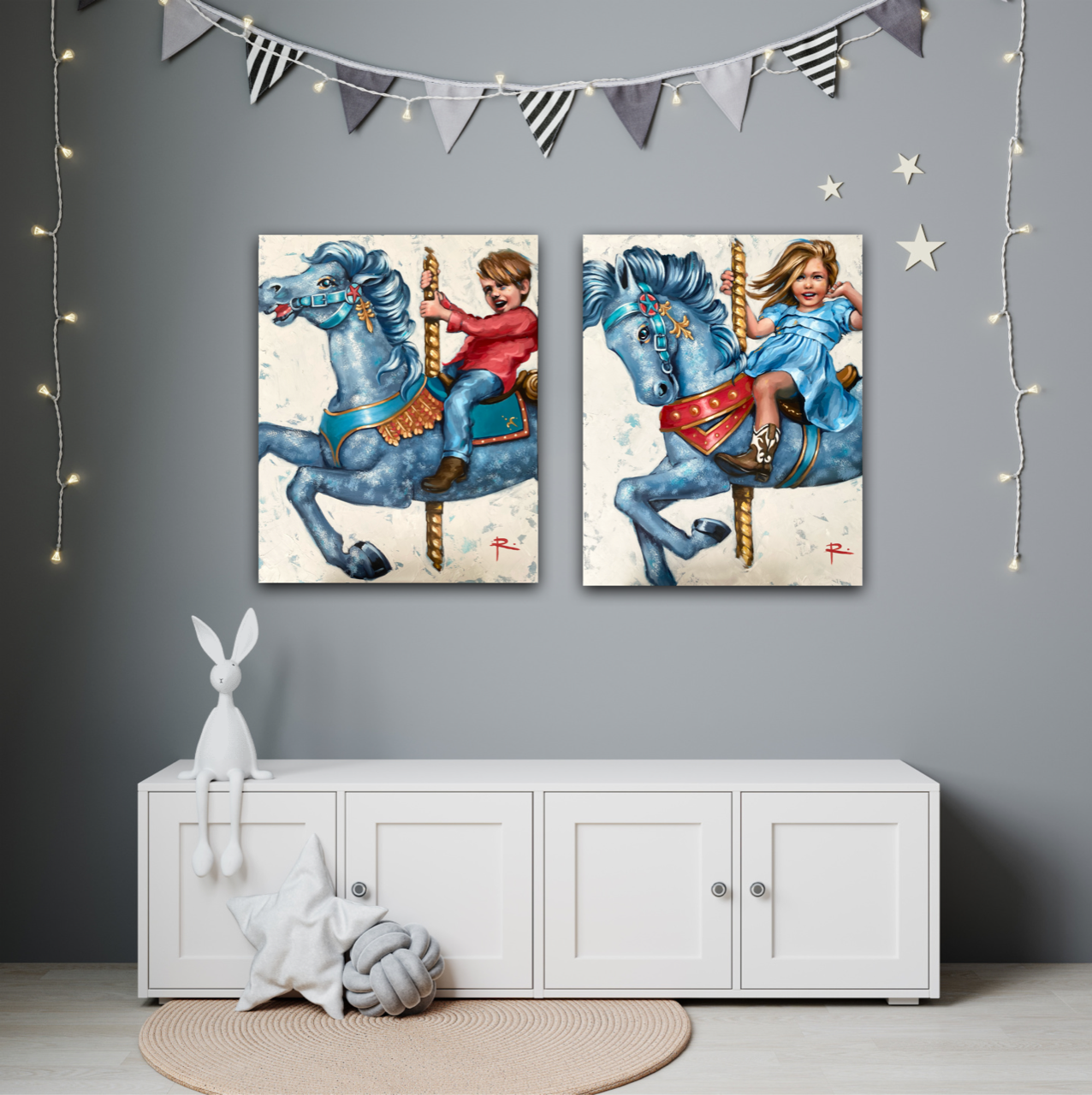 TALLY HO I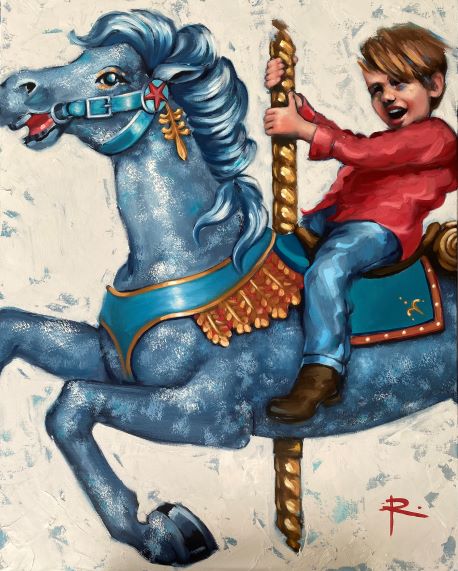 Oil on Canvas 76.2cm x 61cm
Ready to hang  |  Includes Certificate of Authenticity
Price (incl. shipping and insurance) AUD$750.00
TALLY HO II
SOLD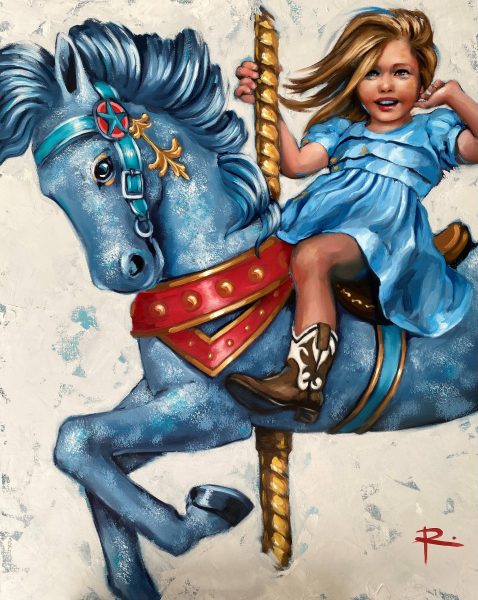 FLOURISH 

SOLD
Triptych
Oil on Canvas
61cm x 183cm
Three months in the making and featuring Maggie Beer's Baked Brie and Walnuts as the centrepiece …. a sumptuous flourishing florilegium of flowers, food, wine and gorgeous things!
GLORIOUS HEIGHTS feat.
MONTAIGNE (aka Jess Cerro)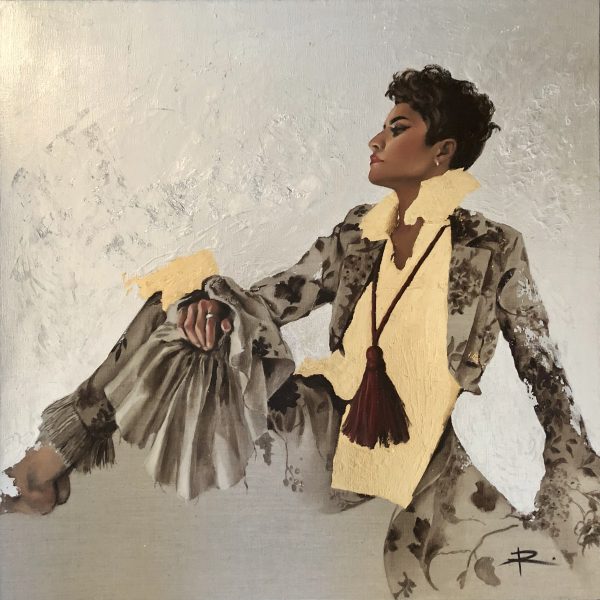 Oil, Silver and Gold Leaf on Linen
61cm x 61cm (24″ x 24″) Framed
I first heard Montaigne's voice, sounding like an exquisite fusion of Björk and Kate Bush, on the radio. From Triple J Unearthed High finalist in 2012 to ARIA Award winner in 2016 for Breakthrough Artist of the Year, singer-songwriter Montaigne (aka Jess Cerro) has worked with artists such as Hilltop Hoods, Megan Washington, San Cisco and Japanese Wallpaper.
To me, however, she evoked the New Romantics of the '80s: Adam and the Ants and Spandau Ballet, Boy George and Duran Duran, an era I'm utterly fascinated with.
Jess exudes an intriguing combination of sassy confidence and eccentricity, layered with sensitive vulnerability. An idiosyncratic creature, her music explores the emotional and deeply personal sides of her life, connecting with her audience through the sheer honesty and sincerity of her lyrics.
And when, on the day of our first sitting, she emerged in a decadent costume of frills, flounces and passementerie, I just knew I was going to have fun with this painting!
Ready to hang  |  Includes Certificate of Authenticity
Price (inclusive of shipping and insurance) AUD$1300.00
CONVERSE SERIES
SNEAKER I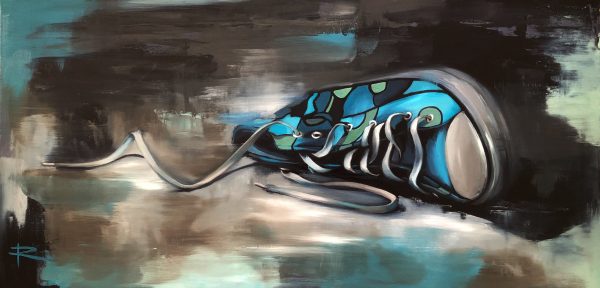 Ready to hang  |  Includes Certificate of Authenticity
Oil on Canvas
46cm x 91.5cm (18" x 36")
Price (inclusive of shipping and insurance) AUD$850.00
CONVERSE IV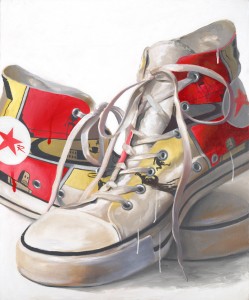 Limited Edition Print No. 1 of 50, lovingly signed and numbered by me
Printed on Canson 310gsm Cotton Rag
Size: 42cm x 30cm, unframed
Price incl of shipping and insurance AUD$250
THE WHIMSICAL WORLD OF ZUMBO feat.
Adriano Zumbo, Pâtissier
SOLD
My portrait of Adriano Zumbo epitomises my love of fantasy and magic. Adriano's whimsical Wonka-esque qualities were inspiring, and creating this trompe l'oeil was a roller-coaster of fun, frivolity and a touch of silliness!
Return Policy: Refunds are accepted within 7 days of delivery. Artwork must be returned in original condition at buyers expense.
SHOP ALL OTHER ART AT MY