In which Maurice Ellis, presenter of Dream Home Australia, interviews the owners of the old Catholic Seminary about their plans to restore the magnificent, but derelict, building …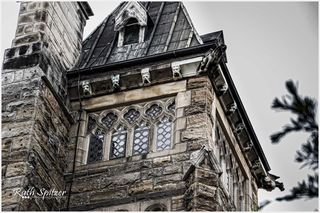 "The film crew hovered, alert and quietly efficient. An expectant silence fell over the building site. The clapper came down.
'Hello Richard. Hello Gordana,' Maurice Ellis walked with the Lemanns towards the tower, hands in pockets and handsomely relaxed. His eyes crinkled and his smile gleamed. 'Fantastic place, this. Absolutely beautiful!'
'Thank you, Maurice. It is, isn't it?' Gordana answered brightly.  'Especially on a day like this, you can see straight across the Harbour!'
She looked smashing today – Dimi had plaited an intricate French braid into her hair, she wore stylish cargo pants purchased from a store in Beverly Hills during her last visit to Los Angeles and her blindingly white tank top matched her new hard hat; she certainly wouldn't wear the hard hat, but it looked quite fetching dangling from her freshly manicured fingers.
'Indeed, it is quite stunning. And that's your front door key, is it?'
As rehearsed, Richard handed Maurice the massive ring laden with ancient keys. The largest key, wrought iron with an intricately traced bow and oversized protrusions on the blade, was the one which opened the tower door.
Maurice waved it joyfully at the camera. 'And this is what you get when you buy a house like this!'
'Do you want to come in and have a look, Maurice?' Richard gave his most cordial and welcoming smile and led the way in. The camera followed the trio through the arched wooden doors and recorded their chit chat as they moved around, making a tour of the property.
'Wonderful space, really. The light. The space. And the old beams.'
'A lot of windows! Is that the original glass?'
'So what's this area going to be, then?'
'Maurice,' Gordana gushed, 'it's going to be a sunken courtyard, with a central fountain. Then, we will have stepped terraces leading up to the stables which will be converted into garaging for the cars, with guest quarters above. Over there,' she gestured gracefully, 'will be a swimming pool and spa.'
'Marvellous!'
Gordana's laugh tinkled. Being on television was much easier than she had previously thought. It came naturally, in fact. She was a pro. Imagine if she was asked to guest star in another programme …
'So, what's this?' Maurice asked, as they stood next to the old stables looking towards the back of the block. A barricade remained around the decaying remnants of the separate building, affixed by a safety-conscious estate agent long ago, and a magnificent old Red Bloodwood reached its arms protectively over the old edifice. 'It was the old kitchens, you say?'
Pulling a section of the barricade away, they stood under the massive stone lintel of the crumbling door and peered into the dark empty space, down at a pit of what looked like oily black sludge.
Maurice laughed and gestured to the cameraman to move closer. 'More like the Great Dismal Swamp, isn't it? What's that black goo, d'you think?' He kneeled down, reached in and dipped his finger into the sludge and held it up. Gordana shuddered.
'We don't know what happened here,' said Richard. 'Gordana hopes to build a cabana here … for the pool. It will have to be drained, I suppose.'
'And new footings set down, I'd imagine,' added Maurice, 'a concrete pad …'
'You could lose someone down there,' Gordana interrupted, 'couldn't you?' She gazed intently at Maurice, her eyes wide and glistening. She dropped her voice, hoping to sound dark and mysterious:  'I hope all our builders behave themselves … don't be surprised if one of them suddenly disappears into the pit. Anyone could be buried under the concrete pour, and no one would even know!' She giggled shrilly.
There was a moment's awkward silence, and then Maurice laughed along with her. He turned around and moved smoothly on.
'And are these cobblestones I see?'"